Join VASA/Renew TAD
Joining VASA or Renewing your TAD is easy.
Preview trail system and application help info below, then click the link to purchase TAD (Trail Access Decal)
We work with Polaris Ride Command to provide up to date trail info.
It is free app you can view on your tablet/PC and your phone for real time navigation.
The app will allow to you preview trails system before committing to purchasing a TAD.
*Links to purchase a TAD, transfer an existing TAD or purchase a Club Only Membership at the bottom of this page.
Red Button for TAD purchase
Yellow Button for Transferring current TAD to replacement machine
Blue Button for Club Only membership
Vermont State Statute:
Title 23 : Motor Vehicles
Chapter 031 : All-terrain Vehicles
(Cite as: 23 V.S.A. § 3501)
§ 3501. Definitions
(1) "All-terrain vehicle" or "ATV" means any nonhighway recreational vehicle, except snowmobiles, having not less than two low pressure tires (10 pounds per square inch, or less), not wider than 64 inches with two-wheel ATVs having permanent, full-time power to both wheels, and having a dry weight of less than 2,500 pounds, when used for cross-country travel on trails or on any one of the following or a combination thereof: land, water, snow, ice, marsh, swampland, and natural terrain. An ATV on a public highway shall be considered a motor vehicle, as defined in section 4 of this title, only for the purposes of those offenses listed in subdivisions 2502(a)(1)(H), (N), (R), (U), (Y), (FF), (GG), (II), and (AAA); (2)(A) and (B); (3)(A), (B), (C), and (D); (4)(A) and (B); and (5) of this title and as provided in section 1201 of this title. An ATV shall not include an electric personal assistive mobility device.
Title 23, Chapter 31
3506(b)(3)(3) On any privately owned land or privately owned body of water unless either:
(A) the operator is the owner or member of the immediate family of the owner of the land;
(B) the operator carries the written consent of the owner or lessee of the land or the land surrounding the privately owned body of water to operate an ATV in the specific area and during specific hours or days, or both, in which the operator is operating;
(C) the ATV displays a valid VASA Trail Access Decal (TAD) as required by subsection 3502(a) of this title that serves as proof that the ATV and its operator, by virtue of the TAD, are members of VASA and consent has been given orally or in writing to operate an ATV in the area where the operator is operating; or
(D) the owner of the land or the land surrounding the privately owned body of water designated the area for use by ATVs by posting the area in a manner approved by the Secretary to give reasonable notice that use is permitted.The owner or operator of an ATV shall not operate or permit the operation of an ATV at locations where the ATV must be registered in order to be lawfully operated under section 3502 of this title without having in effect a bond or a liability policy in the amounts of at least $25,000.00 for one individual and $50,000.00 for two or more individuals killed or injured and $10,000.00 for damages to property in any one accident.
________________________________________________________________________________________________________________________________________________________________________________________________________________
What is a TAD and why do I need one?
By Vermont statute you must have written permission to cross every landowners property along the trail system. To avoid each rider from having to go to each landowner for permission the statue has a provision allowing you to join a club that has landowner permissions, which in turn is part of VASA enabling you to legally ride the trail system using a TAD (Trail Access Decal).
What do I need to get a TAD?
To obtain a TAD you must show clear visual proof that you have a current state issued ATV registration from your state of residence or Vermont.
The DMV form must clearly show the following four things.
1. The vehicle is registered as an ATV/UTV/OHRV in your state of residence or Vermont.
2. The registered owners name and address.
3. The plate/sticker number (some states only issue stickers vs plate)
4. Dates showing registration is active/current.
**A current temporary registration is okay provided it shows the four criteria, including plate number.
View VASA TAD Requirements on YouTube
View Purchase VASA TAD Demo on YouTube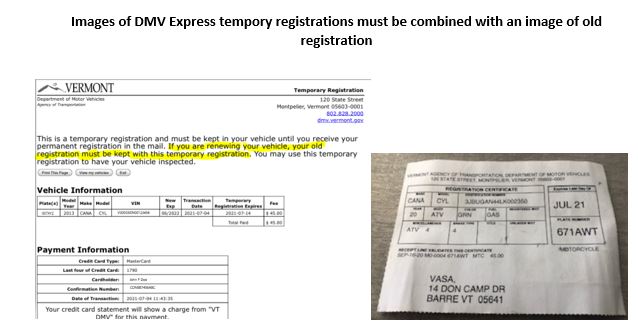 Please help us help you get your TAD on time. If you upload an image of an unusable document,
you will not receive your permanent application or sticker until we receive an image of your actual registration.
Your TAD will be delayed and you will be subject to additional processing fees.
The address you enter will be used to mail your TAD, please be sure to enter a current mailing address. If you do not receive a confirmation email after submitting your application, check your spam/junk folder. If you do not receive one it may mean the email address entered is incorrect, please contact the office to verify the address.
Please
do not

upload any of the following images:
Last year's TAD form

DMV EXPRESS receipt without including old registration in the image.

Plate or sticker without matching DMV form showing owner's name and address

Temporary registration form without a plate number

Forms showing expired registration dates
2022 TAD valid 01/01/2022-12/31/22
*2022 TADs go on sale beginning January 2022
Please contact the office at 802-477-5075 if you have any questions. Thank you!
Cost:
$60
If you have a Vermont registration everything you need from VASA including your TAD, VASA membership and local club membership.
$105
If you have an out of state registration everything you need from VASA including your TAD, VASA membership and local club membership.
$20 per transfer
Club Only Membership $20